A comprehensive list of pests in Australia
Appearance, lifecycle and habits
Appearance, lifecycle and habits
Appearance, lifecycle and habits
(Periplaneta americana)
The American cockroach is one of the largest pest cockroaches to invade homes and commercial properties.
APPEARANCE
35 – 40mm long.
Shining red–brown in color.
Wings longer than the body in male; only just overlap abdomen in female.
Runs (may fly at very high temperatures).
LIFECYCLE OF THE AMERICAN COCKROACH
The ootheca (egg case) containing up to 16 eggs is carried by the female for several days before being deposited. Sometimes cemented down and tend to be grouped.
Hatch in 1 – 2 months.
Nymphs usually develop in 6 -12 months, but it can take up to 15 months.
HABITS OF THE AMERICAN COCKROACH
Also known as the 'Palmetto bug' because they live on trees, the American cockroach prefers dark, humid and undisturbed areas and can be found in subfloors, basements, kitchens, roof voids and bathrooms of homes.
One of the smallest pest cockroaches, brown banded adult cockroaches are approximately 10 – 15mm in length and characterised by yellow-brown stripes across their abdomen.
(Periplaneta australasiae)
LIFECYCLE OF THE AUSTRALIAN COCKROACH
Females deposit the ootheca (egg case) containing 24 eggs a day after production.
After hatching nymphs take 6-12 months to develop into adults.
HABITS OF THE AUSTRALIAN COCKROACH
Enter buildings at night from gardens/debris.
Generally prevalent in areas where winters are relatively mild.
Despite its name, it isn't a native species.
APPEARANCE
Notorious for their world-wide distribution, German cockroaches are easily identifiable by 2 dark longitudinal stripes on their pronotum.
Adults grow to approximately 12 – 15mm in length.
LIFECYCLE OF THE GERMAN COCKROACH
Females carry 35 – 40 eggs in an ootheca (egg case) until they are ready to hatch.
Hatch in 1 month.
Nymphs take between 6 weeks to 6 months to develop into adults.
Generally 3-4 generations per year.
HABITS OF THE GERMAN COCKROACH
Most commonly found indoors.
Prefers wet, humid conditions and are typically found in kitchens and bathrooms in homes and commercial properties.
APPEARANCE
Dark brown or black in colour.
20 -25mm long.
The wings undeveloped in female and cover ¾ length of the abdomen in the male.
LIFECYCLE OF THE ORIENTAL COCKROACH
Females deposit 16 eggs in an ootheca (egg case).
Hatch in 2 months.
Nymphs take 6-18 months to develop into adults.
HABITS OF THE ORIENTAL COCKROACH
Highly adapted for surviving in the natural environment, Oriental cockroaches thrive in cool, damp areas such as basements, drains and openings beneath porches.
Known for their preference for feeding on garbage and decay, these insects can most commonly be found in rubbish tips and leaf litters.
Runs rather than flies.
APPEARANCE
3-35 mm mm long.
Shining dark brown in colour.
Wings longer than the body in male; only just overlap abdomen in female.
Runs (may fly at very high temperatures).
LIFECYCLE OF THE SMOKY BROWN COCKROACH
Females deposit the ootheca (egg case) containing 22-26 eggs a day after production.
Nymphs take between 6-12 months to develop into adults.
The noticeable difference between nymphs and adults, apart from size, is the lack of wings in the young.
HABITS OF THE SMOKY BROWN COCKROACH
Lives in tree hollows, under bark, under floors, and enters buildings at night.
Nocturnal (hides during the day in cracks and crevices or any other dark warm places).
Has a habit of entering houses and contaminating food with excrement, regurgitated salivary fluid and potentially harmful bacteria.
APPEARANCE
Workers about 1.6mm long.
Light to dark brown in colour.
Do not swarm.
Bite – do not sting.
LIFECYCLE OF THE ARGENTINE ANT
Worker ants produced in spring and increase in numbers up until autumn.
Winged ants (reproductive Kings and Queens), produced in early spring, before the workers, mature within three months and mate soon afterwards.
Argentine ants mate in their nest so no swarming is seen.
HABITS OF THE ARGENTINE ANT
Worker ants will follow food trails for long distances so nests are not easy to track.
They prefer sweet foods but will also eat live and dead insects, meats, cereals and damaged fruit.
Argentine ants drive out other ant species from an area.
APPEARANCE
Shiny and black.
2.5 – 3mm long.
LIFECYCLE OF THE BLACK HOUSE ANT
Larva hatches out of the egg as a white grub which is narrower towards the head. They are fed by the adults.
The larva pupates and appears creamy-white, looking similar to an adult. Sometimes they have a protective silk cocoon around them.
The adult emerges with the three defined body sections: head, thorax and abdomen.
The length of time between the egg stage and ants emerging as adults can take 6 weeks or more; it depends on a variety of factors such as the species of ant, the temperature and the availability of food.
Fertilised eggs become female, unfertilised become males.
HABITS OF THE BLACK HOUSE ANT
These ants are regarded as a nuisance and scavenge in kitchens, garbage and also dog excrement, therefore potentially spreading diseases such as salmonella.
'Common Ants' include the intensely black 'Black House Ants', and they are attracted to sweets.
The light yellowish brown 'Coastal Brown Ant' prefers to feed on meat products and grease.
The most effective control measure is to find the colony and treat it.
APPEARANCE
Carpenter ants are polymorphic which means they can come in a variety of sizes.
There are three size classes, each with different job classifications: Major workers are the largest ants in a colony and contain most of the large soldier ants; while media and minor carpenter ants are mid and small in size respectively and whose jobs are to gather food and construct colonies.
LIFECYCLE OF THE CARPENTER ANT
Carpenter ants are nocturnal, you will often have to wait for night time to find a trail, which could lead to the nest.
Carpenter ants do not tend to travel in large numbers, so a trail may be difficult to spot.
Carpenter ants usually do not just set up one nest, but a whole series of 'satellite' nests too, which ensures the colony's survival even if one nest is destroyed.
HABITS OF THE CARPENTER ANT
Carpenter ants feed on living and dead insects as well as anything people consume.
As the name suggests, carpenter ants can do considerable damage to wooden objects.
APPEARANCE
About 1.5-2.5mm long.
Tend to be yellow brown to brown.
LIFECYCLE OF THE COASTAL BROWN ANT
Eggs laid are small in size.
Larvae are fed by the adults and after several moults the larvae pupate.
Once adults, 3 different castes exist:

Workers are wingless and sterile that lives for approximately a year. Workers are the nest-builders, food suppliers, feed larvae, look after eggs and defend the nest.
Males are winged and exist to mate with females.
Females are also winged until after mating and are also the largest in size. Females become the reproductive queen of the colony and live for many years.
HABITS OF THE COASTAL BROWN ANT
Nest in soil and build along pathways around the house including gardens and walls.
Dry areas for nesting.
Will excavate leaving mounds along foot paths and other areas that are unsightly.
Will attack foods around the property including meat, sweets, fruit and greasy foods.
APPEARANCE
Fertile male and female ants produce wings on maturity – these are the only ant species to have wings
Flying ants have two sets of wings: a front pair and a back pair.
The back pair of wings are generally shorter than the front pair and can have a brown tint to them.
LIFECYCLE OF THE FLYING ANT
Flying ants swarm during the summer months. This is believed to be due to the temperature, humidity and wind conditions being just right for them.
After they have successfully mated, the male flying ant dies and the queen locates a new place to start her new colony and begins work on building the nest. The location for this depends on the species.
Once a nest has been found the new queen will shed her wings and start a new colony. If successful, the new queen will lay her first batch of eggs, looking after the young until they develop into workers.
From then on, her sole purpose is to keep laying eggs for the colony with the workers taking on the rest of the duties of the colony, such as looking after the young, foraging for food and expanding the nest.
HABITS OF THE FLYING ANT
Flying ant swarms is the mating process of ants where the virgin queens and males from different colonies of the same species collide and reproduce in the air.
Flying ants can often invade your home through open doors and windows. Depending on the species, they can pose a huge threat to your property.
APPEARANCE
Queens 1.59cm long. 
Workers 3.18mm-6.35mm long. 
Coppery–brown on the head and body, with a darker abdomen. 
Solenopsis has a very distinctive two–segment antennal club, which is most visible in the front view of the female reproductive ant.
LIFECYCLE OF THE FIRE ANT
After swarming from the nest and mating, the queen searches for a suitable spot to lay her eggs. Once found, she can lay up to 125 eggs in late Spring. 
Larvae hatch within 8 to 10 days, and the pupal stage lasts for 9 to 16 days. 
Larvae feed on secretions from the queen's salivary glands and broken down wing muscles until the first worker ants emerge. After this first batch of larvae moult into workers the queen's role returns to egg laying – she can lay up to 1500 per day. Worker ants continue with larval care, nest building and food foraging. 
Fertile males are produced later in the season.
HABITS OF THE FIRE ANT
Foraging workers diet consists of dead animals, including insects, earthworms, and vertebrates. Workers also collect honeydew and forage for sweet food, proteins, and fats. 
Swarming characteristics – mating between queens and fertile males takes place on the wing mid to late Summer. Males perish after mating. 
Nest locations can be a mound of up to 40 cm or next to objects found on the ground, e.g. logs. 
If aggravated, these react aggressively and can inflict a painful sting, resulting in a pustule some 48 hours later. 
These ants are a major agricultural and urban pest, destroying crops and invading residential areas both outdoors and indoors.
APPEARANCE
Workers 4-5mm long.
Queens 15mm long.
Dark brown-black in colour.
1 small segment at waist point (pedicel).
No sting present.
LIFECYCLE OF THE GARDEN ANT
Queens overwinter in soil. Eggs are laid in late spring.
Larvae hatch 3-4 weeks later. 
Larvae feed on secretions from the queen's salivary glands until the first worker ants emerge.
Worker ants continue with larval care, nest building and food foraging.
Fertile males are produced later in the season.
HABITS OF THE GARDEN ANT
Foraging worker ants follow well–defined trails around food sources. Sweet foods are preferred but high protein foods will also be taken.
Swarming characteristics – mating between queens and fertile males takes place on the wing mid to late summer. Males perish after mating.
Nest locations – often outdoors in soil and below paving slabs on the sunny side of buildings.
Nest locations can be identified by the presence of finely powdered soil around nest exit holes.
(Tapinoma melanocephalum)
APPEARANCE
Pale/Translucent legs and abdomen.
1.6mm long.
LIFECYCLE OF THE GHOST ANT
Continuous breeding colonies.
HABITS OF THE GHOST ANT
Feeding – indoors: sweet substances and grease; outdoors: insects that produce honeydew.
Nesting – indoors: small spaces, wall voids; outdoors: in flowerpots, under objects on the ground, under loose bark.
Locations – attracted to high moisture areas, can be found in kitchen and bathroom cabinets.
Colonies can occupy several different nesting sites.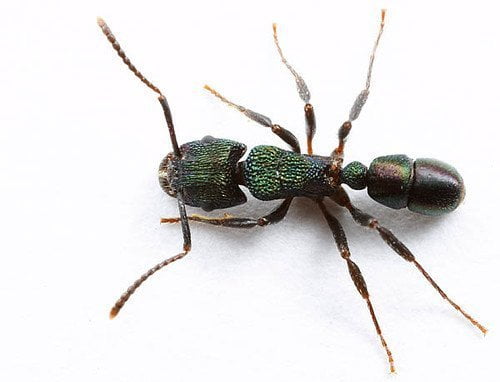 APPEARANCE
5-6mm. 
Black with metallic green head. 
Distinctive appearance and odour
LIFECYCLE OF THE GREEN ANT
The ant's life cycle passes through egg, larva, pupa, and adult phases.
HABITS OF THE GREEN ANT
Typically nests in small colonies under paths and among rockeries. 
They live in bushy and urban areas. 
Feeds mainly on materials of vegetable origin. 
Rarely enters houses. 
Can inflict a painful sting to humans.
APPEARANCE
Brown or black. 
1.59mm-3.18mm long. 
Antennae have 12 segments and are not terminated with a club. 
6 legs.
LIFECYCLE OF THE ODOROUS HOUSE ANT
Time to adult phase of development is 34-38 days. 
Typically live for several years.
HABITS OF THE ODOROUS HOUSE ANT
Feeding – eat most household foods, especially sugary food, eg sweets and fruits such as melon. Also eat pet food. 
Locations – attracted to moisture. In hot, dry environments nests can be found in house plants and even lids of toilets. 
Odour – produce a coconut smell when crushed. 
Colonies – range in size from 100-10,000.
APPEARANCE
Dark brown or blackish.
3mm long.
6 legs.
2 spines on the back.
2 nodes on petiole.
Grooves on head and thorax.
Thorax uneven with 1 pair of spines.
12-segmented antennae
with 3-segmented club.
Winged ants are often mistaken for termites.
LIFECYCLE OF THE PAVEMENT ANT
Visible spring and summer.
Have been known to emerge any time of the year in heated structures.
HABITS OF THE OF THE PAVEMENT ANT
Feeding – eat almost anything that humans eat, and also pet food.
Visibility – seen entering houses looking for food, most often at night. May move through pipes and electrical wires.
Nesting – in lawns or under stones, wood, or boards. Mounds built along sidewalks, baseboards, and near foundations in clusters.
Colonies found near water.
APPEARANCE
Workers 1.5-2mm long, yellow-brown with brown abdomen.
Males 3mm long, black, winged.
Queens 3.5-6mm long, dark red in colour with wings.
Black eyes, 2 small segments at the pedicel.
LIFECYCLE OF THE PHARAOH'S ANT
Multi-queen colonies.
Swarming can take place at any time of the year.
Winged adults seldom fly so rarely seen. Wings are soon lost after mating.
HABITS OF THE OF THE PHARAOH'S ANT
Well–defined trails are laid which are often associated with heating systems. Feeds indoors on high protein foods — meat, fats, blood, dead insects, etc.
Swarming characteristics — new colonies are often formed through nests that have been disturbed e.g., as a result of insecticide spray treatments.
Each queen produces up to 3,500 eggs in its lifetime.
Nest locations — deep seated in cavities in heated buildings. Often found in hospitals. Associated with humid conditions. Colonies can range from a few dozen to 300,000 individuals.
APPEARANCE
2-3mm. 
Light brown with darker posterior abdomen. 
Head flattened and blocky.
LIFECYCLE OF THE SINGAPORE ANT
The ant's life cycle passes through egg, larva, pupa and adult phases.
HABITS OF THE OF THE SINGAPORE ANT
Eats a variety of food materials, including protein and sugar-type materials. 
Typically nests in and around buildings, in cracks, crevices, wall cavities, behind skirting, under paths etc. 
The most problematic feature of this pest is its attraction to plastics in electrical, irrigation and other equipment. 
It has a fairly painful sting.
APPEARANCE
This species vary greatly in shape, size and colour. 
Range from 2.5 to 15 mm, and are some of the most often seen ants due to their size and often bright in colouring.
LIFECYCLE OF THE SUGAR ANT
The ant's life cycle passes through egg, larva, pupa and adult phases.
HABITS OF THE OF THE SUGAR ANT
Often nests in a variety of sites ranging from holes in wood to the roots of plants, twigs of trees and shrubs, between rocks or in the soil. 
They can also be seen during the day however, they are most active at night. 
They are unable to sting, but they do possess strong mandibles which can bite. In self-defense these ants are also able to spray acid from their abdomens to deter predators. 
They feed on dead and lives insects, household waste and are attracted by sweet food. 
They rarely enter houses.
(Technomyrmex difficilis)
APPEARANCE
Dark brownish / black colour.
Yellow-white feet.
Approx 3mm in length.
LIFECYCLE OF THE WHITEFOOTED HOUSE ANT
A colony can contain up to a million ants, thus these are very invasive ants which can be hard to eradicate.
Nearly half a colony is made up of fertile females so reproductive capabilities are huge. These are winged and larger than wingless females.
Winged males mate once before they die, wingless males are capable of multiple mating.
Adult workers are wingless females and are the ones seen looking for food.
HABITS OF THE OF THE WHITEFOOTED HOUSE ANT
They do not bite or sting.
Although colonies are vast in numbers, they tend to spread out into satellite colonies which nest in different locations.
Ideal nesting locations outside include trees – in trunks or galleries that might have once been created by termites, under loose bark or plant debris, nearer the home in attics, under roof shingles, in wall voids, along fences and in outdoor furniture. Indoors they can be found in the kitchen area near bins or where food is stored or prepared.
These ants are attracted to sweet substances – plant nectars, flowers and sweet human food substances. Also attracted to aphids and mealy bugs which secrete honeydew.
Most likely to be seen foraging for food in large numbers, most likely at night if temperatures are high.
Australia has its own native tarantulas, though they're also known as whistling or barking spiders because of the sounds some species can produce by rubbing their front limbs against their jaws. They are also called bird-eating spiders, although it is rarely justifiable. These spiders mostly feed on insects, including other spiders, lizards and frogs and would occasionally prey on bird hatchlings.
Four genera, Selenocosmia, Selenotholus, Selenotypus, and Phlogiellus are generally found throughout the country. Only six species have been officially identified, though it's likely many more exists. Despite their intimidating large size and hairy legs, (6cm body and up to 16cm legs-pan) tarantulas aren't fatal to humans; they can render painful bites because of their large fangs (1cm long), but severe effects (nausea, vomiting, fever) are rare. They can, however, kill dogs. Females live for about 12 years and males about five.
Common garden orb weaver spider
As the name suggests, common garden orb weave spiders are a typical sight around Australia. Their bites have only minor effects, such as some local pain, but they are aggressive: they're the most common spider species to bite.
They measure between 1.5cm and 3cm and live in all the gardens, generally weaving webs between trees, on hedges or washing lines, in places where other insects are likely to fly and get caught in the sticky threads. Active at night, they hide during the day and rest with their legs withdrawn under the body, hanging off a thread under a leaf or in the clothes hanging from the line.
Huntsman spiders are widespread in Australia. They are famous for being the big (up to 15cm leg-span) scary, hairy, black spiders bolting out from behind the curtains. In reality, they are reluctant to bite and more likely to run away when approached and their venom isn't considered dangerous for humans.
Their danger comes more from causing accidents by the terrified drivers who react to a huntsman jumping out from behind the sun visor or dashboard of a car when it's in motion. Despite their intimidating size, huntsman spiders can be an ally in the house; they help with pest-control by eating smaller insects.
There are eight species of mouse spider found all across Australia and they're typically found in burrows, often near rivers or waterways, and can occasionally be found in suburban areas.
Their venom is similar to the funnel-web spiders, although no deaths have been attributed to them; only one case of severe envenomation has been recorded. Studies have shown the funnel-web spider antivenom to be effective for mouse spider envenomation; and because it is sometimes difficult to tell the two species apart, the bites should be treated with the same precaution.
Mouse spiders are rather lethargic and rarely aggressive. The females generally remain in their burrow, while the males wander looking for them, generally in late summer to early winter. Unlike other spiders, mouse spiders are often active during the daytime, while other species from the same family prefer to wonder at night to avoid the heat and the day-active predators.
There are about 40 species of funnel-web spiders in Australia, but only six have been reported to cause severe envenomation, with victims generally around southern Queensland and northern New South Wales.
The impressive northern tree funnel-web spider, Hadronyche formidabilis, (4-5 cm long) and the smaller southern tree funnel-web spider, H. cerberea probably count as the most dangerous ones. Half their bites result in severe envenoming.
Every year, up to 30-40 people are bitten by funnel-web spiders. But antivenom is available and proved very effective. They feed on prey ranging from beetles to frogs and appear to be generally more active in the warmer months, between November and March.
Redback spiders are found throughout Australia, in many habitats, including urban areas. They often hide in dry, sheltered places such as garden sheds, mailboxes and under toilet seats.
Numbers of redback spider bites are uncertain, but about 2000 are reported each year and about 250 people receive antivenom. No deaths have been recorded since redback antivenom became available in the 1950s.
Most serious bites are from the female redback spider, which measures about 1cm long (bigger than males) and is recognisable by the well-known red stripe on its back, from which it gains its name. Their venom affects the nervous system, which is potentially dangerous for humans, but their small fangs make many of the bites ineffective. Envenomation can cause various effects, but the main symptom is severe and persistent pain – which can last hours to days depending on the person's sensitivity to the venom – and may include nausea, malaise and lethargy.
Cupboard spiders (Steatoda sp.) are often mistaken for redbacks and they produce similar symptoms, though their venom is less potent. Redback venom is effective against these bites.
Alson known as a fiddleback spider, the recluse spider has potentially dangerous venom that can be haemotoxic, damaging the blood and skin as well. Alarming emails have circulated about this spider inflicting terrible damage to human tissue but this was only a hoax meant to scare people.
In 20 years that fiddleback spiders been known to exist in Australia, their range hasn't increased and not a single envenomation case has been reported here, so despite the myth, this spider can hardly be considered dangerous in Australia – though they are a major cause of serious bites in South America. Moreover, they are known to only have tiny fangs to inject their venom and are not inclined to bite.
With highly toxic venom produced in large amounts and large fangs to inject it, the Sydney funnel-web is without a doubt the deadliest spider in Australia, and possibly the world.
Found in New South Wales, in forests as well as populated urban areas, they burrow in humid sheltered places. They can wander in backyards and sometimes fall into swimming pools, and though they're not often encountered, they can be quite aggressive when threatened.
Though just 1.5-3.5cm big, the Sydney Funnel-web has fangs larger than a brown snake's and so powerful they can even pierce through nails and toenails. Their venom has a compound that can attack the human nervous system and alter the functioning of all organs and, when coming from a male, can kill. One in six bites causes a severe reaction, but since the antivenom has been made available, in 1981, no fatalities have been recorded.
These spiders are named after their habit of camouflaging the entrance of their burrow to trick their prey into falling inside.They measure about 1.5 to 3cm long and as is often the case, females are distinctively larger than males but males tend to be more aggressive when feeling threatened.
Found throughout Australia's natural or urban environments, trap door spiders cause only minor symptoms for humans, generally inflicting only localised pain, but sometimes nausea, lethargy and malaise.
Just like the mouse spiders, trap door spiders are often mistaken for funnel-web spiders, especially since the early effects of their bites are similar; these spiders should therefore be treated with caution. While most spiders live for about one year, trap door spiders can live between five and 20 years.
(Lampona cylindrata and L. murina)
Lampona cylindrata is found in natural and urban areas across southern Australia, from south Queensland to Tasmania and from east to west coast, and Lampona murina in eastern Australia. Unlike burrowing spiders, white-tailed spiders are vagrant hunters and wander about at night, hunting other spiders.
Though white-tailed spiders have a reputation for releasing necrotising (flesh-eating) venom, the scientific evidence doesn't support this assertion. More likely, the spiders were wrongly held to blame for difficult to diagnose skin ulcers. Recent studies have shown the venom causes no major danger to humans and is limited to mild local pain.